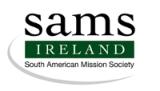 "Aspiring to be a praying, serving, affirming, listening, partnering and transforming mission agency"
"Christian mission is about being inside out and upside down! It is about change and transformation. It turns individuals and communities inside out. It is about people in every nation discovering and living by the upside down values and priorities of God's Kingdom." - Bishop Ken Clarke (SAMS Mission Director)

About SAMS Ireland
SAMS is committed to working in partnership with churches in the UK, Ireland, Iberia and South America. The history of SAMS can be traced back to the mid 19th century. In the 21st century we passionately believe that the message in mission remains relevant even if a secular and pluralist worldview has become more prominent. We are enthused and thankful for the emerging opportunities and possibilities.

Aim
To resource churches and communities.